×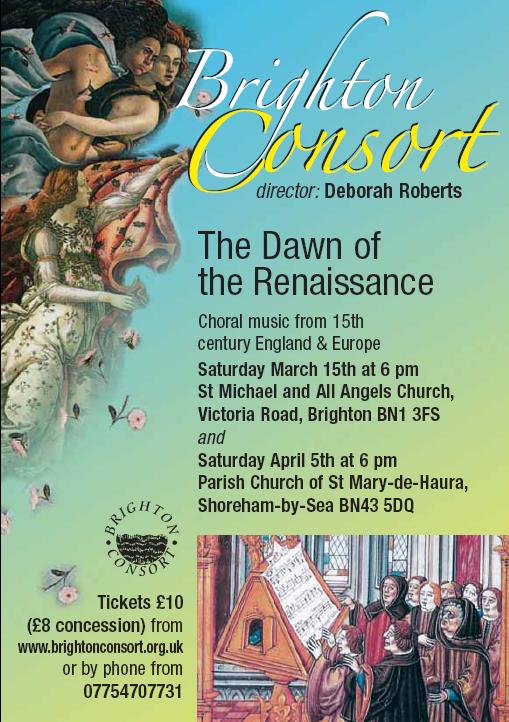 The Dawn of the Renaissance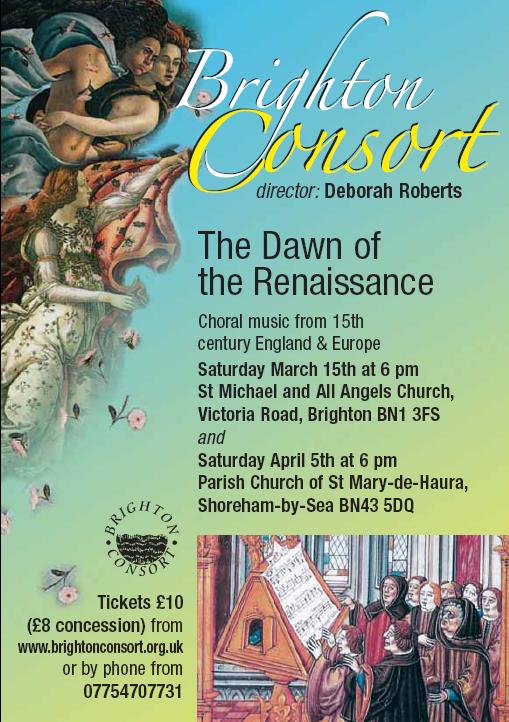 More information
Concert Programme
Part 1: The Roman rite in Europe
Chant, Ave Regina Coelorum
Dufay, Ave Regina Coelorum
Dufay, Conditor alme siderum
Chant, Regina Coeli
Gilles Binchois, A solis ortus cardine
Ockeghem, Mort tu as navrè de ton dart (on death of Binchois)
Chant, Alma Redemptoris mater
Ockeghem, Alma redemptoris mater
Traditional, L'homme arme
Ockeghem, Missa L'homme arme Kyrie
Obrecht, Parce Domine
Chant, Salve Regina
Obrecht, Salve Regina
Interval
Part 2: The Sarum rite in England
Sarum chants for Compline, Te lucis ante terminum
Dunstaple, Descendi in hortum meum
Sarum chants for Compline, Salvator mundi Domine
Dunstaple, Veni sancte spiritus
Sarum chants for Compline, Christe qui lux es et dies
Browne, O Maria Salvatoris Mater
Programme notes
The Dawn of the Renaissance.
The Renaissance (literally – 'rebirth') began in Italy, where the rise of humanism, the expansion of natural science and a growing interest in the philosophy and literature of the Ancient World, combined with a massive increase in patronage of the arts from powerful and wealthy families. At the risk of enormous simplification, it could be said that the Italian Renaissance in music started in the 14th century, or even earlier. However it was not until the 15th century that the ideas were spreading into Northern Europe, with clearer, more text-inspired music beginning to replace the complex, almost mathematical forms of the medieval world.
The 15th century saw not only great innovations in the style of composition, but also in the expansion of choirs themselves. While earlier medieval music was composed most often in 3 parts, composers such as Guillaume Dufay and John Dunstaple began to write in 4 parts, making more widespread use of the bass and treble voice.
In the first half of tonight's concert, we look at the European world of the great Burgundian composers Dufay and Binchois and onwards to the growing richness of harmonic language and emotional 'affect' found in the later Franco-Flemish composers Ockeghem and Obrecht. Ockeghem's deeply moving elegy on the death of his teacher Binchois is a prime example of renaissance 'feeling' in music, and achieves great clarity despite the use of two languages: the lament itself sung in French by the top part, while the lower voices chant in Latin.
The second half takes a parallel path, through English music of the same time, beginning with the ground breaking style of Dunstaple – rich in modern sounding major triads - and ending with the 8 voice O Maria Salvatoris Mater of John Brown – an extraordinary tour de force from the Eton Choirbook, where passages in all 8 voices alternate with sections for anything from 2 to 6 voices in almost 'concerto' style. Brown may have one of the most ordinary of names, but he is becoming acknowledged as one of England's finest ever composers!
All of tonight's music is based upon plainchant, and several of these beautiful and haunting chants are threaded through the concert; Roman chant in the first half, and English Sarum chant in the second. Not only does this chant anchor the music, it also provides the ear with a welcome change of texture and sense of timelessness.