×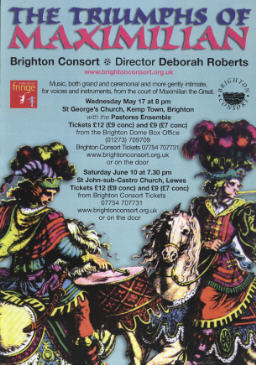 The Triumphs of Maximilian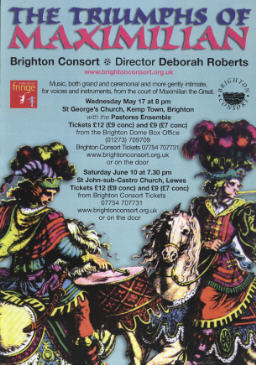 In collaboration with Pastores Ensemble and the Wealden Consort.
More information
Concert Programme
Josquin des Pres (c1440-1521) - Gaude virgo
Josquin - Ave Maria virgo serena
Heinrich Isaac (c1450-1517) - Salve sancta parens
Isaac - Innsbruck, ich muss dich lassen
Paul Hofhaimer (1459-1537)- Greiner zanner (cornetto, tenor and bass viols)
Hofhaimer - Greiner zancker (lute, mandolin and viols)
Heinrich Finck (1444-1527) - Greiner zanner (cornetto, lute, mandolin and viols)
Ludwig Senfl (1486-1542/3) - Was wird es doch
Josquin - Agnus Dei from Missa l'Homme arme sexti toni
Isaac - Virgo prudentissima
Senfl - Tota pulchra es
Senfl - Ave rosa sine spinis
Instrumental pieces for lute, violin and viols;
Wohl kumbt der Mai,
Gottes Gewalt,
Kraft und auch Macht,
Wohl kumbt der Mai II
Quis dabit occulis
Programme notes
King of Germany, head of the of the Hapsburgs and Holy Roman Emperor, Maximilian I was born in Wiener Neustadt in 1459 and died also in Austria in 1519. A great patron of the arts and deeply knowledgeable about music, his court became one of the greatest centres of culture and learning in Europe and attracted the finest musicians of the day, thus eventually rivalling the great establishments of Burgundy, the Netherlands and Italy. Most significantly however, he put German renaissance culture on the map and assisted in the founding of a distinctive school of German speaking composers which grew out of the richness of cultural variety in this age of rapidly shifting European alliances.
In both music and art in the 15th century, the lands north of the Alps were home to the last flowering of a broadly medieval, Gothic culture, whereas Italy was the birthplace of the humanist, renaissance movement which was later to spread throughout Europe. Significantly, most of the great Franco Flemish composers of the time including Obrecht, Ockeghem, Brumel and the greatest pan-European, Josquin, studied or worked in Italy (notably Ferrara), at some point in their lives. Equally, the great German artist Durer, who was later to carve the famous woodcuts depicting the triumphs of Maximilian, also made several pilgrimages to Italy in his youth.
Probably the most significant composer at Maximilian's constantly shifting court was Heinrich Isaac. Born in the Netherlands around 1450, he spent many years in Florence at the court of Lorenzo the Magnificent until the rise of Savonarola caused him to move to Vienna in 1497, where he became court composer to Maximilian. Although he held this position until his death, he was free to travel much, including long visits to Innsbruck, another of Maximilian's many seats. As a lasting legacy, his much loved Innsbruck ich muss dich lassen was later transformed into a chorale melody and used in the Passions of Bach. However the piece most closely connecting him to his patron is Virgo Prudentissima. This was published in 1520 in a collection of motets compiled by his pupil and successor Senfl, and was a tribute to the recently deceased emperor. Although the cantus firmus (the tenor chant part sung throughout the work in long notes) is a Marian antiphon for the feast of the Assumption, the text of the second half of the motet is a clear prayer for Maximillian himself (presumably alive, well and busily conquering when the work was originally composed!)
Josquin des Pres has been claimed by both France and the Netherlands as a native, but he spent much of his life working in Italy. Although he never worked for Maximilian, it is impossible to exclude Josquin from a programme featuring composers who were themselves so heavily influenced by him. His beautiful Ave Maria was remodelled and expanded by Senfl in a fascinating tribute, and his combination of classical structures such as canon with soaring, uncluttered lines and sonorities left an unmistakable legacy in the German world. Nowhere is this more clear than in the final Agnus Dei from his mass L'homme arme sexti toni- a paired double canon one note apart built on slow cantus firmus parts.
Swiss born Ludwig Senfl was to spend a great deal of his life in the German speaking world, and remained at the court of Maximilian until the emperor's death. Although a prolific composer of instrumental music, the fact that he was a singer is very clear in the lines he composed. While well grounded in the forms and structures of the Franco Flemish style, and skilled in the use of cantus firmus and canon, he also explored very modern sonorities and made extensive use of the entire range of the voice demanding at times a compass of an octave and a sixth. He also wrote striking passages in parallel 3rds and 6ths that can be heard in Ave Rosa, and was a master of suave, sensuous and lyrical lines apparent in his Song of Songs text Tota Pulchra es. We close with his moving elegy on the death of Maximilian Quis dabit oculis, in which a clarity learned from Josquin combines with his own unmistakable lyricism.
Deborah Roberts - May 2006